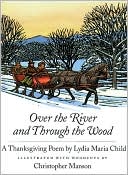 This morning we woke up to a house without power. I had plans of doing our nature study down by the stream that is next to our house. Instead we gathered our things and went "Over the river and through the woods to grandmother's house..." If you haven't see this book it is worth a gander. We do quite literally go over the Hudson River and through the woods of the lower Adirondacks to get to my mother's house. She lives right at the base of Lake George. It is located in a small hollow surrounded by mountains. There is always a plethora of wildlife when we visit.
When I looked at the weed study I wasn't sure how we would do it. We have a heavy blanket of snow cover. I realized that I just wasn't looking close enough. Along the gullies and wet areas the weeds are still there. As we walked down my mother's road, we were able to see a few weeds.
We really didn't notice any changes in them since the late fall.
What was most captivating for us today were the tracks. It is balmy weather for us. In the 40s. This allowed us to spend quite a bit of time outside investigating the tracks that we found in the snow. First I will show you the pictures and have you guess what each one is. Then I will share with you what we thought made the tracks.
1.
2.
3.
4.
5.
6.
Numbers 1 and 3 we believe are a fox. Number 3 was taken at the end of the trail of number 1.
Number 2 leads to a grove of apple trees. At first we thought it might be a fox trail, but the trail sways more than it stays in a line. So we think it might be from a deer that was walking. We are not sure. Number 5 is a deer that was bounding. It is harder to make out due to the fact that the tracks were older. Those we could even tell were from a doe. My mother said that the doe track does not have the back point.
Number 4 are rabbit tracks. We found this near the tracks. It is much easier when there is other "evidence."
Number 6 is a mystery track. Let us know if you can identify them.